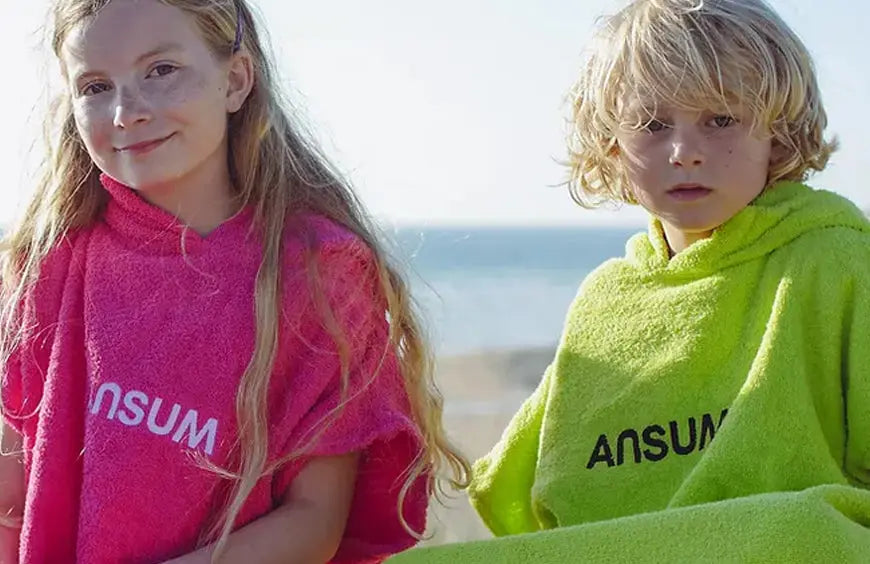 Kid's Changing Robe - Perfect For Summer Adventures!
We like to think we are real changing experts, and that extends to our kids too.
Change robes are perfect for kids…. easy to throw on after jumping out of the pool or sea, comfy to wear whilst they dry and warm up, something to snuggle in whilst camping or even when standing on the side of the pitch. We know many of you also use them on your little people a bit like a dressing gown around the house. Once you have one, you'll find they will be in constant use!
Quick Dry Robe 
Ansumco. Quick Dry Robe is a poncho cut and style, with deep hand pockets, attractive panelled design, and hood. 
The Quick Dry robe is made from super soft suede microfibre. It holds more water, dries more quickly, and packs down a lot smaller than the terry cotton towelling which makes it perfect for beach days or holidays when space is at a premium. The quick dry nature also makes it very suitable for when it might be getting wet repeatedly during the day, so for example at the beach or on a camping trip.
---
Older Post
The Benefits of Blue Space
Newer Post
The Benefits of Blue Space